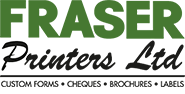 Are you tired of paying a fortune for generic forms that don't even fit the needs of you or your business? Why not get what you want for a price you will want to pay?
We have the solutions to fit all your printing needs!! From Invoices to Waybills to Purchase Orders - we will customize ANY form to fit your needs!!
Don't stop at forms… we also print CHEQUES. That's right - no more having to deal with those banks! FRASER PRINTERS makes ordering your cheques easy, hassle-free, and cost-efficient!!!
Click here to order cheques and forms
Call today to find out how YOU can receive 100 FREE cheques on your very first order.